Gluten-free Breads
:
Yeast-leavened breads
for people who cannot tolerate
wheat
, oats, barley, or rye in their diet.
2½ cups blanched almond flour
½ teaspoon sea salt
½ teaspoon baking soda
3 large eggs
1 tablespoon agave nectar
½ teaspoon apple cider vinegar
Ingredient Preparation:
All ingredients should be at room temperature.
Place eggs in a bowl and beat lightly. Blend in the remaining liquid ingredients. Pour into bread pan.
Measure dry ingredients, including yeast, into a bowl and whisk together to thoroughly blend. Pour dry ingredients onto liquid ingredients in pan.
Welbilt Bread Machine Program
:
Place pan in machine. Select the dough cycle and press start. The dough should look like stiff pancake batter. It does riot look like wheat bread
dough
.
When the dough cycle is complete, select bake and press start. At the end of the bake cycle, test for doneness with a toothpick. If the bread is not done, reselect the bake cycle and press start. Check approximately every 10 minutes until the toothpick comes out clean.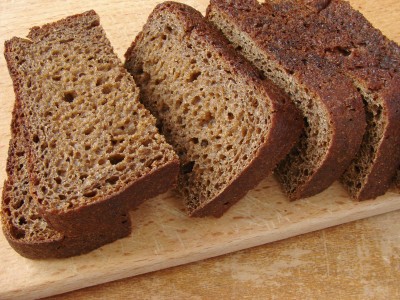 After Baking:
Remove pan from the machine and allow the bread to remain in pan for approximately 10 minutes. Remove bread from pan and cool, completely before cutting.
If the loaf sinks in the middle when cool, remember to write a note on the recipe to reduce the liquid approximately 1 or 2 tablespoons.
If the loaf has a rough uneven top crust, remember to write a note on the recipe to increase the liquid approximately 1 or 2 tablespoons.
To store gluten-free bread, slice and then place the slices together. Wrap loaf in aluminum foil and place in a plastic bag. Store in freezer until almost ready to serve or eat. Slices will snap apart easily and thaw rapidly.